Click the Flyers tab at the top of your vMarketing homepage to get started. Here you will find all of the flyers in your account. Click the drop-down menu labeled Create New Listing to start building a new flyer. Choose from over 50 different product categories. When you find the best fit, click Create.
The Flyer Editor will open, where you enter all of your flyer's details, starting with a Title. On the left, notice the Quick Links section, which allows you to navigate through the various parts of the Flyer Editor. Note the buttons at top: Preview, Save, and Publish. Click Preview to see how your flyer will look once published. Click Save to save the data you have entered. Click Publish to activate your flyer.
Start by giving your flyer a title and description. We recommend keeping the description to a couple of short paragraphs.
Next, enter your listing's features and attributes; enter the main features of your listing, then check any attributes that apply.
To show off a unique quality of your listing, you can make custom additions throughout the Flyer Editor - just click the Add Field or Add Attribute link, then enter a new field or attribute - in this example "Hardwood Floors", and click Add.

Next, enter a price for your listing, and any additional pricing information. You can add a new field if something is missing.
Under Location Information, enter the address of your listing or your business. By default, the Show Address and Show Map boxes will be checked to display the address and map on your flyer, but you can un-check them if you'd like.
Next up is Contact Information. By default, the contact information from your Account Profile will appear on your flyer. To use different contact information, uncheck the box for Use Account Information and enter specific contact information for this flyer.
In the Choose Theme section, choose a theme for your listing. Choose from one of our standard themes, or select a custom theme that you've created. To create a new custom theme, click the Create New link. To learn how to create a custom theme, click here.
Next, add some photos to your listing. Click the Upload and Manage Photo Gallery link to get started. For more information, check out the tutorial on uploading photos.

To add links to other websites to your flyer, click Add Link. Enter the link title, which will appear on the flyer, the web address that you wish to link to, and click Add.
vMarketing business subscribers can add video and voice narration to their flyers. For more information, visit the tutorial pages on adding video and voice narration.
Business subscribers can also change the layout of both the Craigslist flyer and listing website. If you are using a custom theme, you can choose from over a dozen Craigslist layouts; for the listing website, you can choose the premium or standard layout. Click either of the Change Layout links to do so.


Under Settings, select the websites where you want your listing automatically submitted by vMarketing. For a list of all of the websites we syndicate to, look here.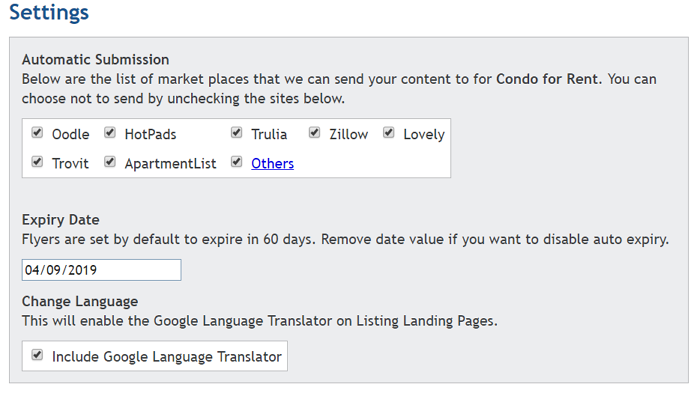 Lastly, specify an expiration date for your flyer. By default, your listing will expire in 60 days, but you can set it to expire at a later date, or clear this field entirely, in which case your flyer will remain published until you decide to unpublish it manually.
When you're done, preview the flyer by clicking the Preview button. If everything looks good, proceed with publishing the flyer.